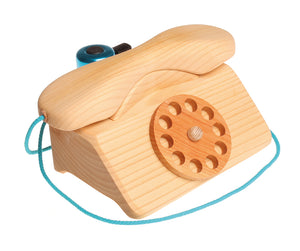 Another one from GRIMM'S with a timeless and stylish design that includes an authentic ringing bell and turning dial. Children love to imitate the adults around them and talking on the phone is no exception! Perfect for playing pretend and also to learn skills they will need later in life. Please note that the colour of the cord and bell varies.
Materials: Alder wood, non-toxic plant-based oil finish, cotton string and metallic bell.
Dimensions: 20cm by 10.5cm by 9.5cm 
Product Care:
Clean with damp cloth.
Do not submerge in water.
Do not use disinfectant.
Do not use hot water.