Say Hello to Playsilk in the Mail!
In collaboration with Sarah's Silks, her well loved Playsilk in the Mail monthly subscription programme is now in Singapore, exclusively at Noah's Toys!
Nurture their creative spirits and give your child the gift of imaginative play! Each Playsilk in the Mail parcel includes two exclusive open-ended toys to surprise your child each month and are always worth more than the price you pay as a subscriber!
Use code PSITM50 for 50% off your 1st month with a 3 month subscription of our Playsilk in the Mail!
SUBSCRIBE HERE
We've got all your favourites!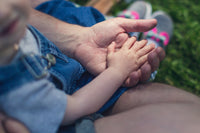 Our Promise to You
Being parents ourselves, we understand the importance of safety while our little bubs play. We source from a list of suppliers that uphold strict standards of production. Our curated wooden toys may test the boundaries of your child's imagination but never your standards for safety.
Shop Now
what our customers say
I'm a HUGE fan of grimm's. NTG definitely have the widest range of Grimm's toys in SG (although I think if you see something you like but not in the site you can ask her, but all NTG listed are already my favourite selection), so it is a joy to shop here. Products are safe for young kids and most of them even for babies! Prices lower than shipping from overseas yourself. Lovely customer service with speedy replies!

Yvette
The perfect toy shop! Friendly owner & the best toys. Certainly one of our favorites.

Monica
Been looking for a local site to buy wooden toys (specifically Grimm's) and a friend (Rafidah!) recommended me Noah's Toys and Games! Managed to get the last piece of the medium rainbow and transaction was easy breezy! Was pleasantly surprised to find out that shipping was free (and expedited in my books) and that we got our toys the next day! So so fast! Can't wait to get more grimm's and will most def repurchase from Noah's again!!

Farah
Delighted with the selection of beautiful, open-ended wooden toys here. Website was easy to order from and my queries were answered warmly and promptly. Love supporting local small businesses with a lot of heart and have already placed my next order. :)

Coral
Love the very thoughtful selection at Noah's Toys! The toys are of great quality, delivery is quick and the service offered prompt and personable! :)

Sara
Was having problems thinking about what to buy for Birthday kids! Went to Noah's and pleased to have a variety of curated toys. It was convenient, hassle-free and we got our orders in less than a week! On top of that, Jamie was very approachable and helpful! Selecting birthday presents are now stress-free and enjoyable with Noah's Toys & Games!

Hani
If you're looking for quality wooden toys for kids, there's no better place than Noah's. There's a good curated selection of open-ended toys. The customer service is excellent and queries are always attended to speedily.

Brenda
We bought our first few Grimms sets for our lil one and we are glad that she absolutely loved them. Apart from this, we are very impressed with the customer and delivery service. Great job, Mummy Noah! Will definitely expand our collection.

Norida
I recently bought the Sarah Silk from them and I love how beautiful it is! This was something that I have always been wanting to buy for my kids. They bring in really good stuff from overseas which encourages open play among toddlers. Highly recommended!

Linda